Amusement Business
Providing fun entertainment - Earning customers' lasting affection
In our Amusement business, we handle design, production and sales of Amusement machines.
We devote ourselves to providing fun, exciting products that are sure to earn the lasting affection of our customers, by tapping into the knowledge gained from many years of experience in the entertainment field throughout the Konami Group.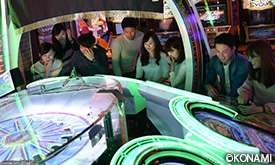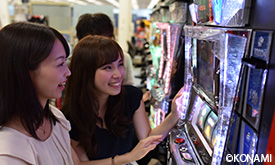 Group Companies behind the Amusement Business
About Amusement Machines
KONAMI's amusement machines have fulfilled customer expectations by offering new forms of entertaining experience like starting the music game boom and creating new value through online services.
Amusement machines are now a form of leisure attracting a broad age demographic that has diversified needs. By leveraging the expetise gained throughout the history of KONAMI, we remain committed to delivering products and services that are packed with fun and excitement.
DANCERUSH STARDOM

MAH-JONG FIGHT CLUB
Gouka Kenran

MARBLE FEVER
SENGOKU COLLECTION 3

MagicalHalloween6

G1 DerbyClub
About e-amusement service
KONAMI offers a unique "e-amusement" service that connects arcade games online, which enables to promote person-to-person communication.
"e-amusement" will offer a broader entertainment experience and promote new ideas using its service.