Sports Business
(Japan)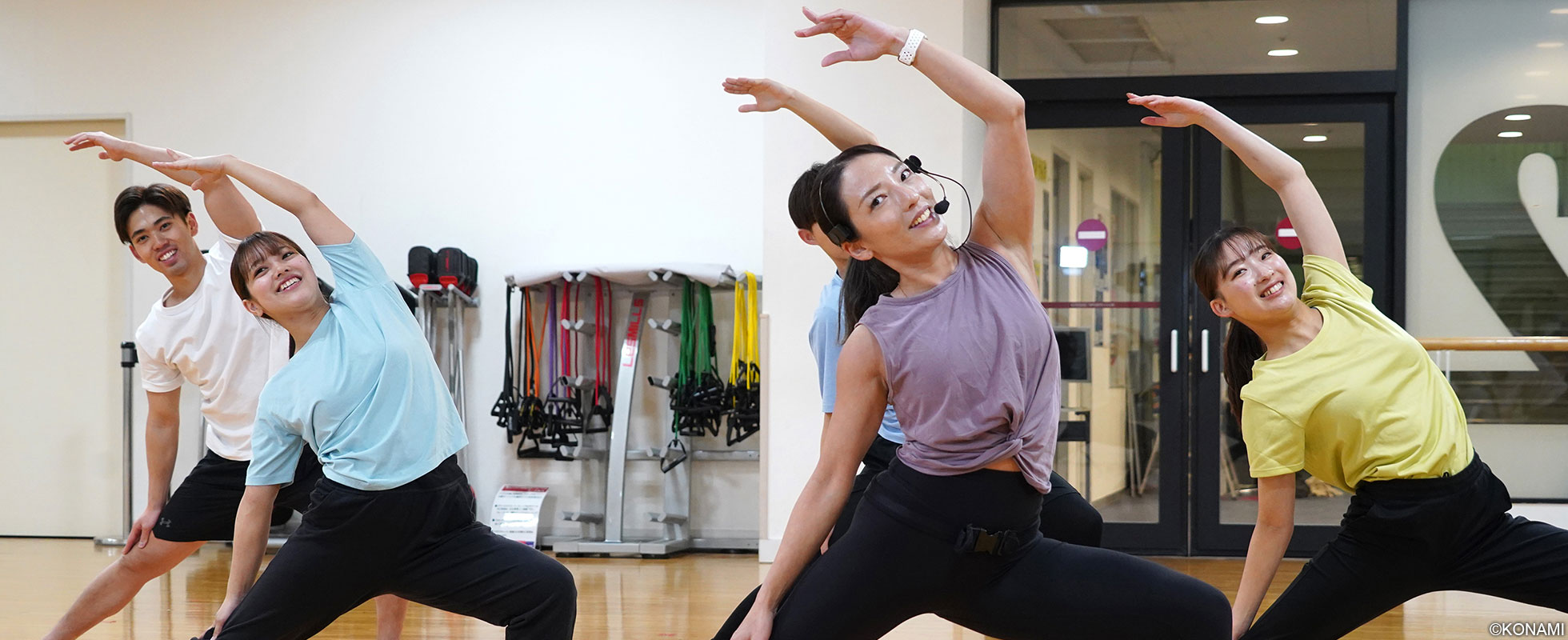 Offering a Wide Array of Sports-Related Services
KONAMI's Sports Business runs sports clubs (fitness clubs and schools for children) and public sporting facilities, and the plans, develops and sales sports and health-related contents and products.
In addition, in collaboration with local governments and other organizations, we work to solve problems in local communities by leveraging the know-how accumulated through the operation of sports clubs, such as teaching swimming lessons at elementary and junior high schools, providing sports and exercise guidance to local residents, conducting nursing care prevention projects, and managing various sports events.
We have also extended our services outside our facilities through the use of internet and applications for online fitness, walking and running.
In Japan, which is said to be a super-aging society, people's interest in improving their health through sports and exercise is on the rise, and it is becoming ever more important to create an environment where people can engage in sports and exercise that suits their individual lifestyles in an increasingly diverse society. With the aim of extending healthy life expectancy, we will provide wide range of services and products centered on sports to create the opportunity to engage in exercise and support people so that they can lead healthy and vigorous lives forever.
Fitness Club Brands to Meet Customer Needs
KONAMI offers an environment that enables everyone to enjoy sports in their daily lives in an easy and accessible manner through its three fitness club brands: "Konami Sports Club," "GRANCISE" and "XAX."
In July 2021, we opened "Pilates Mirror," a new type studio with ceiling-mounted mirrors.
A Sports Club You Can Call Home

Konami Sports Club facilities offer an array of services and programs nationwide that both children and adults can enjoy, with membership plans that suit your lifestyle.

The Best Possible Time in the Best Possible Location, So You Can Continue to Be the Best Possible You




With high-grade facilities and hospitality comparable to luxury hotels, GRANCISE facilities offer the most effective training environment for customers so that they can continue to be in the best condition both physically and mentally.

A Comfortable Space to Work Out Your Mind and Body

XAX facilities offer popular programs and comfortable fitness environment in compact space by specializing in machine and studio workout.
Offering Various Sports Classes
for All Ages from Infants to Seniors
At Konami Sports Club facilities, we offer various types of sports classes for all ages from infants to seniors, by drawing on our expertise amassed over decades of sports instruction and system for visualizing the process of improvement.
We have recently enhanced our lessens by launching Small-Group Swimming Schools, Table Tennis School, and Trampoline School.
In gymnastics and swimming, we offer incremental lessons to meet each goal, ranging from beginners and children who would like to develop their skills, to those who aspire to be a top-level athlete competing in the world arena.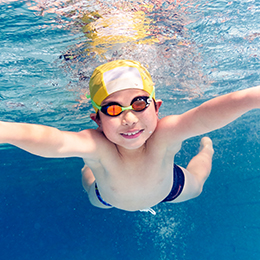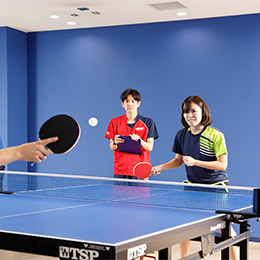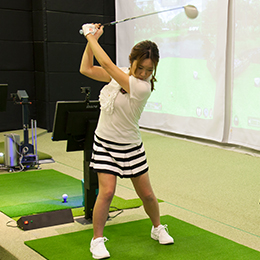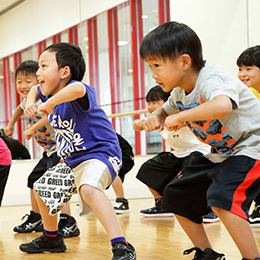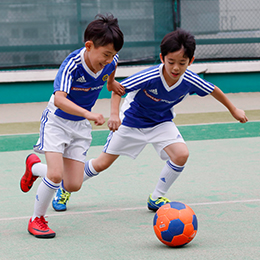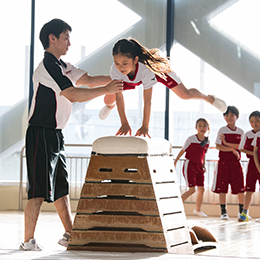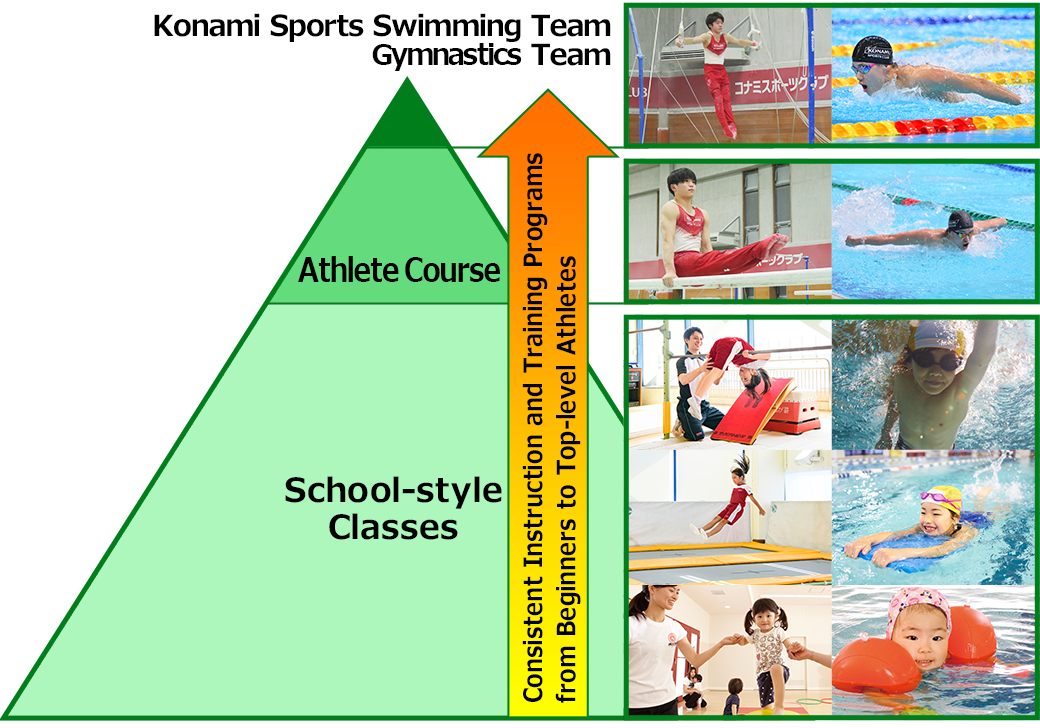 Expansion of Public-Private Partnerships
& Focus on Regional Revitalization
By leveraging our know-how we have cultivated through our operation and guidance business in cooperation with local governments, we contribute to create opportunities for local residents to exercise and improve their health.
New PPP Initiative Starting in FY2021
Starting
Month
Municipal
Facility
April
Funabashi-shi
(Chiba)
Funabashi City Gymnasium
Funabashi City Budo Center
Chuo-ku
(Tokyo)
Chuo Ward Sports Center
Chuo Ward Hamacho Athletic Ground
Chuo Ward Tsukishima Sports Plaza
Kawasaki-shi
(Kanagawa)
Kawasaki City Asao Sports Center
Kawasaki City Tama Sports Center
October
Yoshinogari-cho
(Saga)
Yoshinogari Town Cultural Gymnasium
Funabashi City Gymnasium

Chuo Ward Sports Center

Kawasaki City Tama Sports Center
Focusing on Sports Promotion
and Activities
Since we established our in-house sports team, we have created an environment that enables team members to train for and participate in sports events while holding a job.
This support has now produced athletes from the Konami Sports Gymnastics and Swimming Teams who compete successfully at world events, and we continue to help them improve. Our athletes also take part in various events held at Konami Sports Club facilities around Japan, including exercise classes, swimming competitions and others, with the goal of conveying the fun and joy of sports to everyone.
In addition to such activities, we strive to promote sports, and foster greater interest and participation in competitive sports through events, such as the "KONAMI OPEN Competitive Swim Meet," a leading national swim meet that allows swimmers of all ages—from elementary school children to athletes who represent Japan on the world stage—to compete at the same venue.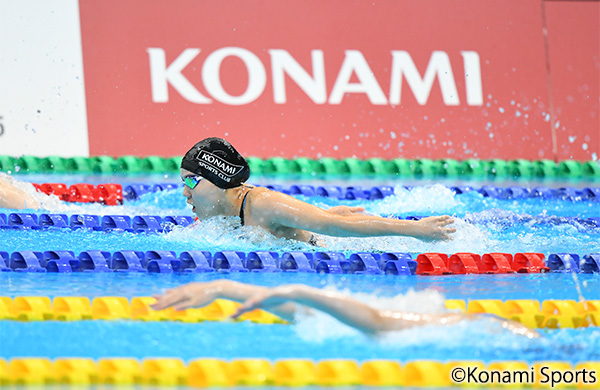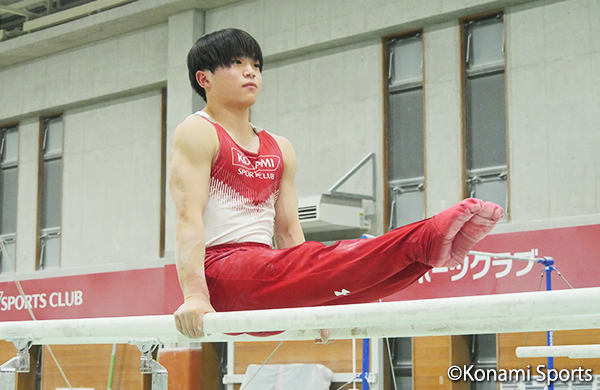 Supporting Workout
while Staying Home
Online lessons for our monthly members started in April 2021, and this has extended to the launch of "Konami Sports Online Fitness" in September for the general public's use. Participants have access to more than 100 live online lessons/week, including yoga, dance and Les Mills. On-demand lessons provided 24 hours a day comes with detailed explanations of the choreography and movements. Participants can enjoy a studio like togetherness while at home, and easily experience full-scale fitness anytime, anywhere.
As alternative mean to resolve lack of exercise and create fun at home, Konami Sports Club has offered original fitness contents on its website since 2015, with the series viewed approximately 14million times(∗).
(∗) Note: Stats as of August 2021 from YouTube.
In addition to "Konami Method," the existing easy to learn workout content based on Konami's many years of exercise and teaching know-how, we have started to offer easy exercise that can be done at home as well as tips on practicing soccer, dance and golf. These home fitness contents allow individuals and families to move their bodies easily at home. We will continue to support efforts to improve physical and mental health by providing services and contents that can be enjoyed by broad age groups.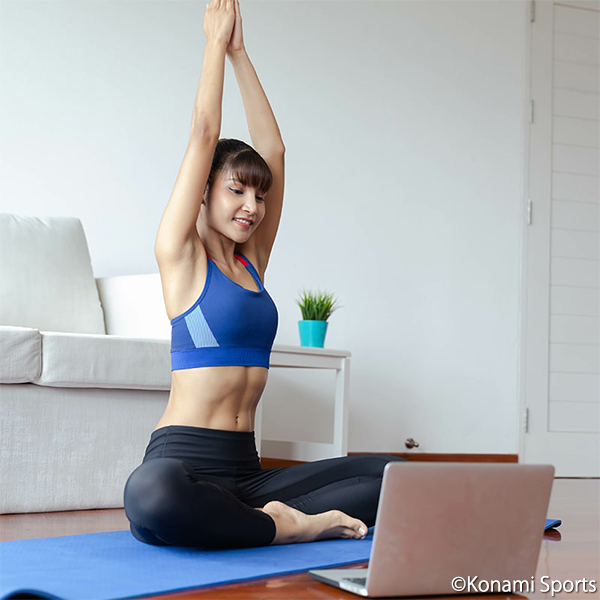 Accepting the Outsourcing
of School Swimming Lessons
While local communities and schools face the issue of maintaining its swimming pool facility and tackle in improving the working environment for their staff and teachers, we have accepted the outsourcing of school swimming lessons to support resolve these issues since the summer of 2019.
In September 2021, our proposal was selected as one of Ministry of Economy, Trade and Industry (METI)'s FY2021 "Learning Innovation" demonstration project and has been set to verify the dispatch of instructors to varsity activities, the utilization of school facilities for local sports, the use sports club facilities by varsity members, and the training and employment of instructors.
Konami works to develop children's mind and body at its nationwide Konami Sports Clubs with its operating system that puts safety first and instructors with specialized knowledge. These assets, including high-quality instruction program and operation system to ensure safety, allow us to provide packages ranging from extensive swimming instruction to educating instructors, depending on the needs of each school.
Sports and Health Products
for Proper Exercise and Healthy Living
As a company engaged in health promotion, KONAMI has designed, manufactured and sold sports and health products by leveraging its accumulated knowledge and experience.
We strive to expand our lineup of products and enhance services of our online shop to help a greater number of customers to achieve proper exercise and a healthy lifestyle.
[Group Companies Engaged in the Sports Business]